Basic Subscription Terms
No software to install. Just a 30-day minimum term.


12-month (One-Year) Agreements receive a 10% discount from $299.00 a month.

A subscription applies to one (1) state jurisdiction.  

Contact us

 for multi-jurisdictional pricing.

1st month payable at sign up.  Monthly subscription fee is automatically charged to your credit card.
Pricing based on number of staff that access the Platform. Three staff members included within the $299.00 a month. Each additional staff member is $50.00 a month. No limit on the number of documents generated.
Each additional office requires a separate subscription.
A subscription is for a single jurisdiction.
Contact us for a quote for multiple offices in multiple jurisdictions.
$299/month (up to 3 staff members) + $50 per additional staff/month*.  Includes Core Features plus Web-Enabled Document Automation features listed below — includes:
Our full library of Rapidocs-automated documents for one jurisdiction plus:
A set of Questionnaires that integrate with our On-Line Questionnaires in Adobe .PDF  that you can print-out and use with your off-line, in-store customers, plus:
An In-store implementation that you can use for creating documents for in-store customers who are not on the Internet.
Search Engine Optimized Web Site is an additional option.
Need an interactive and collaborative Web site? Go to this page to learn more.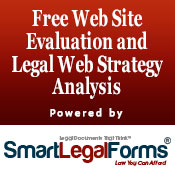 Core Features
| | |
| --- | --- |
| Virtual platform with customer portal ready for use immediately after purchase.  Self-serve interface is provided to add your firm's logo, fonts and colors. | |
| Customer Registration and Customer Login page with username & password logon for every customer.  Includes unlimited number of client accounts. | |
| Secure, encrypted customer communications.  Time and date stamped in threaded archives and accessible 24/7. | |
| Calendaring to post upcoming dates/events.  Includes an automatic reminder feature. | |
| Web-based file storage with upload/download functions and 24/7 access. | |
| Online legal information delivery system. | |
| Document review interface. | |
| MyAccount. Stores client contact info.  Downloadable to Excel or .csv file for e-mail newsletter and other mailing list management. | |
| Legal Resources section to post customer-relevant state-specific legal info/links. | |
| Integrated credit card processing for online purchases and invoicing.  Provided through Chase Paymentech. | |

| | |
| --- | --- |
| Hosting by DataPoint, Inc., the Mid-Atlantic's premier Tier IV data center and hosting provider based in Baltimore, Maryland.  Datapoint is a Tier IV carrier-class data center that has achieved Statement on Auditing Standards No. 70 (SAS 70) Type II certification. | |
| GeoTrust Dedicated SSL Certificate and McAfee Secure insignia on ClientSpace™ customer portal pages. | |
| Managed and dedicated Cisco Firewall Protection.  24x7x365 Server Monitoring. | |
| Daily back-ups, off-site storage of back-ups on tape, plus hot database backups. | |
| Managed load balancing and managed operating system. | |
| $1 million Internet Liability Insurance Policy in force. | |

| | |
| --- | --- |
| Telephone and e-mail based support.  Dedicated support portal provided at http://www.smarterlawsupport.com | |
| Online FAQs and Webinars. | |
| Online user manuals. | |
| Telephone training (one hour). | |
| On-Line Training on How To Run A Legal Document Preparation Business. through the Legal Technician Training Institute. (Training program additional cost of $499.00 a person). | |

| | |
| --- | --- |
| Guidance materials on marketing legal document services online. | |
| Web-enabled, automated legal documents powered by Rapidocs. Sell online documents from our Document Libraries. | |
| Rapidocs Author – The document authoring system. Create Rapidocs-automated documents using your own content and sell them via your own SmartLegalforms® platform. | |
| Publication of automated in-house documents to your SmartLegalForms® platform at no additional cost. | |
| SmartLegalForm® WorkSpace™ | |