Build Your Online Brand With a Web 3.0 Plus Responsive Web Site.
How well is your existing Web site designed?  Get your free Web site evaluation and Web strategy consultation. Is your Web site good enough for a "connected generation"?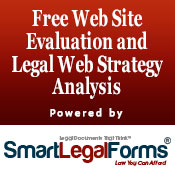 SmartLegalForm's online marketing solution offers a Web site optimized for search engine placement, complete with an integrated online legal document preparation delivery system.  We call our web sites – Web 3.0 Plus Web Sites because they contain the interactive and collaborative features that a connected generation wants plus they are responsive Web sites that work on all mobile devices.
All of the Web sites we develop are integrated with our SmartLegalForms Document Preparation platform.
The perfect solution if you want to:
Enter the online document preparation business with a brand new Web site, optimized for collaboration and interactivity;
Redesign an existing Web site to incorporate a virtual element and deliver online legal document preparation services.
Your Document Preparation Web site is built based on one of our designed templates and includes:
Integration of the SmartLegalForms Document Preparation Platform;
Targeted messaging to attract online consumers seeking legal document preparation services;
Online marketing strategy to optimize your site for search engine placement;
Integration with Twitter, Facebook and other social media sites;
A robust Law Guide containing thousands of FAQ's and legal content in all common areas of law; and much more. See below for more info on included features.
Built on the WordPress foundation, making it easy for you to edit on your own and to add your own content pages as your practice evolves.
Sample SmartLegalForms-Created Web Site: LegalDocCenter in Simi Valley, California. 
 Terms
30-day delivery from payment to Go-Live Date.
12-month Subscription required.
$49/month Web site hosting, maintenance and support fee* is waived during initial 12 month term ($588 savings).
A subscription applies to one (1) state jurisdiction.
Call 561-622-9971 or contact for pricing.
Included Features
A customer contact and support form, integrated with a lead tracking system.

Assistance in writing your About Us page so that it is search engine optimized.

A map page to your office. (Store Location Page)

No limit on content pages

Direct editing capability.  Modify your site or add content 24/7

Browser compatibility and Responsive, Will render on any mobile device.

Web statistics system and traffic reports.

Basic Search Engine Optimization for your site. We will help you set up (1) Google, Yahoo or Bing pay-per-click campaigns and work with you to determine an optimal key word list to maximize search engine visibility.

All sites have clean HTML, proper tagging, and proper META information. W3C Web standards design & layout

Optimization for a consumer direct response web site for selling legal document services over the Internet.

Custom domain and up to ten (10) e-mail boxes.

Ongoing Google Ad Words campaign management offered as an additional service.

XML Google Sitemap

All sites are built on the WordPress platform.
Technical Support
Access to Learning Center.
Monthly traffic statistics for your site.
Telephone support as necessary.
Technical support questions answered or resolved within a 8 hour window during business days.